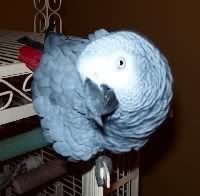 Dinner time can be a real chore around our house. Car Guy and I both work full time, and by the time we get home from our respective jobs, neither of us feel like cooking dinner. We usually take turns, but there's that expectation that dinners on "my" nights are supposed to be better than his. That's not usually a problem - Car Guy tends to the "bachelor specials" on his nights: French toast and bacon; grilled cheese and tomato soup; chicken strips and fries (Yay! It's beige!) or meatballs and pierogi - both from frozen.
Last night I had good intentions. I took the day off work, supposedly to get some things done around the house and to pack for a cooking show tonight. I was doing well running errands, until I got home and realized that I dropped the keyring with my house key someplace during the day. Locked out of the house - not a good place to be. So I retraced my steps and the keys had been turned in at the last place I had stopped - I should have started there. Anyhoo, while at the grocery store I picked up ingredients to make Lemon Chicken Rice soup and a salad for dinner, but by the time I got home I sure didn't feel like making it.

Car Guy comes in the door from work, and I ask him, "What do you want for dinner?" From the other room comes a little voice, "Corn!" It was Beaker, our African Grey, making her opinion known.